ABOUT
The Triorion Universe features artwork by several artists, including M.J. Erickson, Jeremy Aaron Moore, Michael Webber, Cef Grima, and Jacob Mathews. Employing a variety of illustrative techniques, each artist has created a unique glimpse into the lives of the characters in the Triorion series.
For Cef Grima's Triorion illustrations, please check out the Triorion Kickstarter here. For more of Cef's work, click here.
Concept 1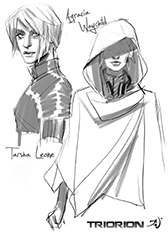 Concept 2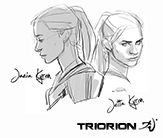 MJ Erickson
Is a freelance illustrator living in Colorado. Previous clients include: Tamora Pierce, Marvel (sketch cards), NBC Universal, Cosmic Times & Temple Street Productions. Available for book covers, illustration, sequential work and character design.
Jeremy Aaron Moore
Using both digital and traditional painting media, Jeremy illustrates for a variety of publications. His work gains recognition across multiple industries and has been accepted into highly prestigious publications and annuals. Outside the studio, Jeremy helps to bring local illustrators and artists together in a burgeoning art community called The Denver Illustration Salon.
Mike Webber
I'm a Colorado illustrator based out of Denver. I'm inspired by a wide variety of things from games and film to philosophy and science. I can pretty much be inspired by anything. I like to work with my trusty pencil and pen(digital and traditional) but I'm also capable of working in a variety of traditional mediums.
Jacob Mathews
Jacob is a professional illustrator residing in Denver, Colorado. His love of drawing began at an early age and has followed him ever since. He is currently involved in numerous projects, including work on a new graphic novel series, and is excited to be a part of the Triorion universe.